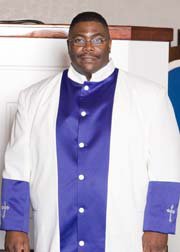 Rev. Louis L. Campbell II
Senior Pastor
Pastor Louis L Campbell II, the Pastor of the Love Missionary Baptist Church was born in Houston, Texas on April 23,1962 in Riverside Texas located in the Third Ward Area of Town. Pastor Campbell is the offspring of Verda Ruth Campbell and Louis L Campbell Sr. Pastor Campbell was reared in Houston, Texas in the area of town stemming from Scott Terrace place where he lived, to Sunnyside, South park and Third ward where he attended school and Fifth Ward where he attended church. Pastor Campbell grew up in the Olivet Missionary Baptist Church under the leadership of Dr. N.T. Burks Sr. where he accepted Jesus Christ as his personal Savior. Pastor Campbell is a Graduate of Jack Yates Sr. High School and attended Texas Southern University and Graduated from College of Biblical Studies with a Bachelor's of Art degree in 2005.
Pastor Campbell is married to the love of his life, Sis. Neva Campbell & has one daughter, Vershonda Campbell.
Pastor Campbell reluctantly received his call to preach the Gospel at 22yrs of age. Pastor Campbell married Neva Edwards July 26, 1986. Pastor Campbell became a member of the Harris County Sheriffs Office in October 25, 1986 where he remained employed as a Sheriffs Deputy for Thirty years. Pastor Campbell received another call from the Lord to organize the Love Missionary Baptist Church in June of 1995. Pastor Campbell now works full time in ministry as a Pastor and a Chaplain for Hospice patients.
Pastor Campbell is a man committed to his calling and passionate about his purpose.